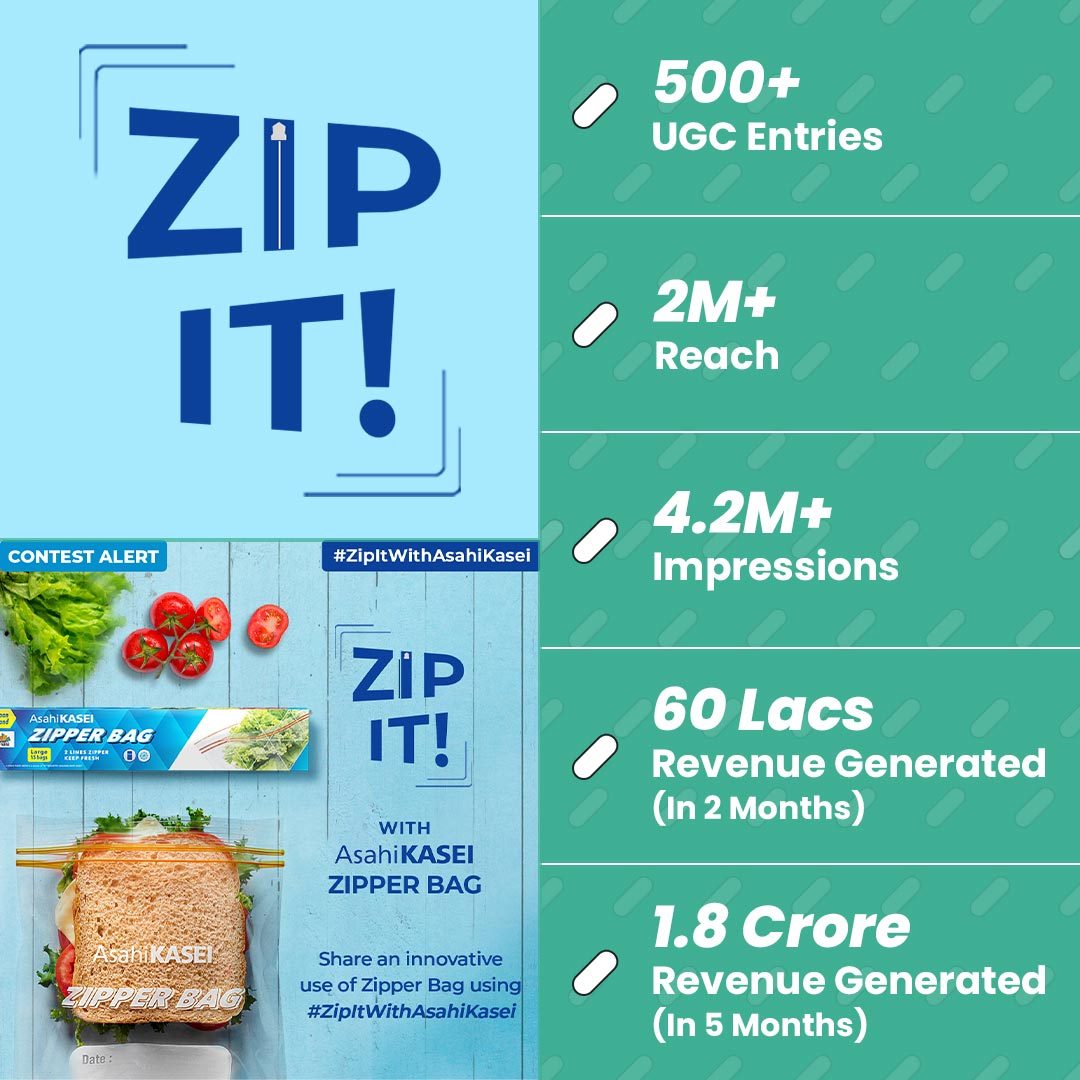 A campaign to introduce Asahi Kasei's Zipper Bag in India.
The campaign aimed to generate awareness and engagement for the newly launched product.

We utilised strategic digital advertising and marketing, targeting moms and home cooks to amplify the content created. A UGC contest was held when participants were asked to share their most innovative uses of the Zipper Bag, resulting in over 500 entries that also helped the brand discover creative uses of the product that had not previously considered such as storing jewellery, medicines, cosmetics, etc.

The product was launched on September 30, 2021, and sold out within two months, by December 2021. They sold 25,000 pieces generating 60 Lacs in revenue.

By March 2022, sales increased to 75,000 pieces, resulting in a total revenue of 1.8 Crore.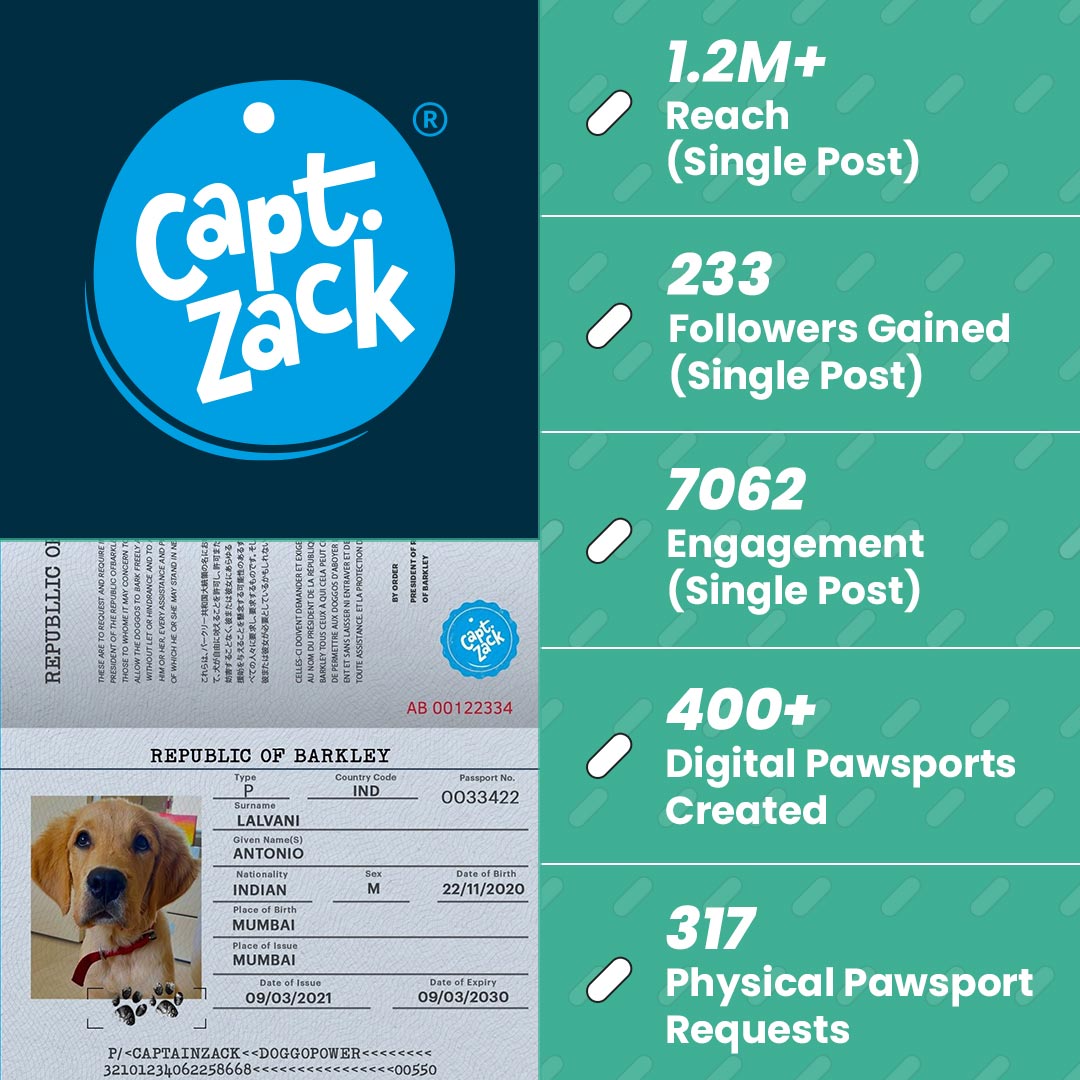 A prime example of how a post idea turned into an actual product, leading to the introduction of their first-ever loyalty program.
CZ Pawsport originally started as just a one-off random cute post idea to generate engagement. However, due to the overwhelmingly positive feedback and demand for this digital product, the brand turned it into an actual physical product that users could purchase.

This eventually led to the introduction of their first-ever loyalty program, which users had a physical booklet for.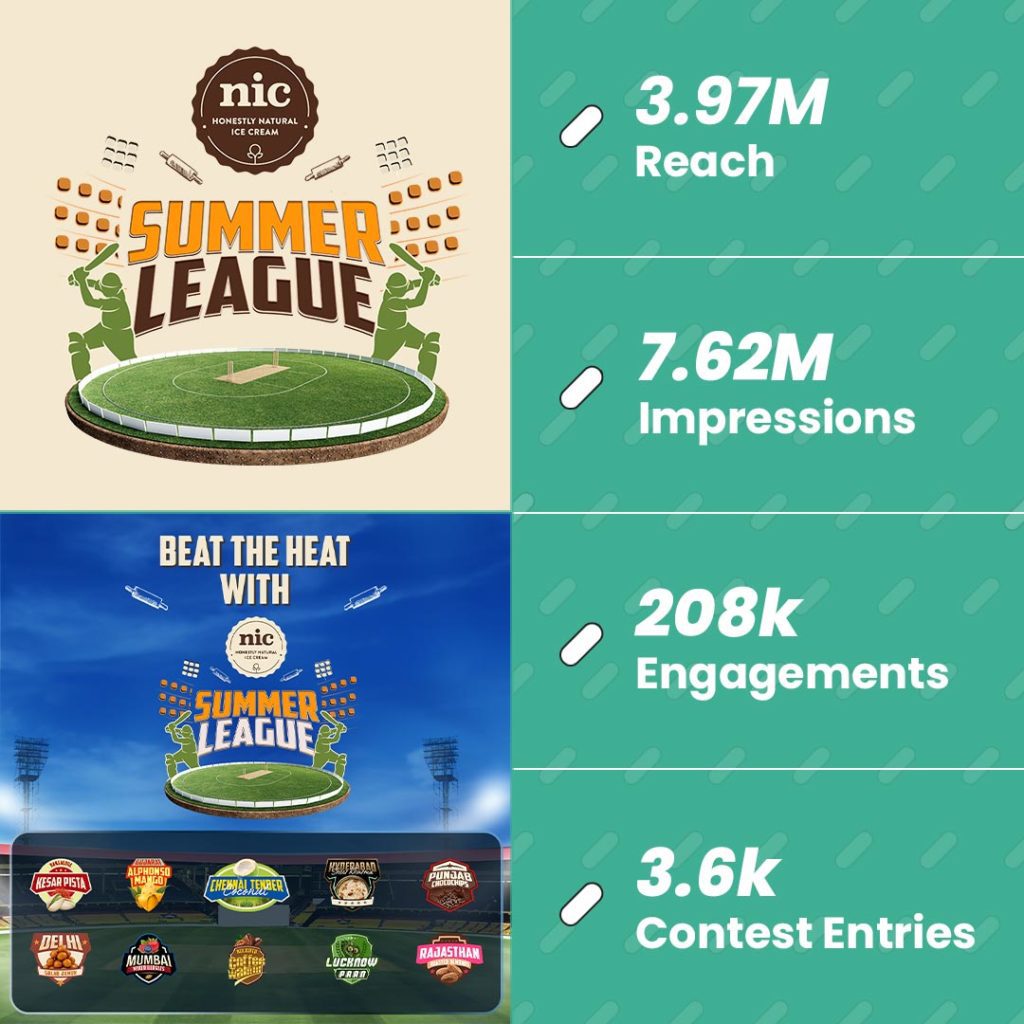 An IPL-themed 'Predict & Win' Contest to engage the NIC Ice Cream community and build followers.
The #NICSummerLeague was an IPL 'Predict & Win' Contest launched during the IPL Season of 2022. The goal of the campaign was primarily to increase Followers and Engagement.
As part of the campaign, we designed custom team names and logos using the brand's ice cream variants – aligned with the actual IPL teams such as Lucknow Paan, Chennai Tender Coconut, Delhi Gulab Jamun, Hyderabad Sheer Kurma, etc.
Every week we held an Instagram contest and asked people to guess who would win in an upcoming match. 100 lucky participants to predict correctly would win free NIC Ice Cream worth Rs. 500 each, and the results speak for itself.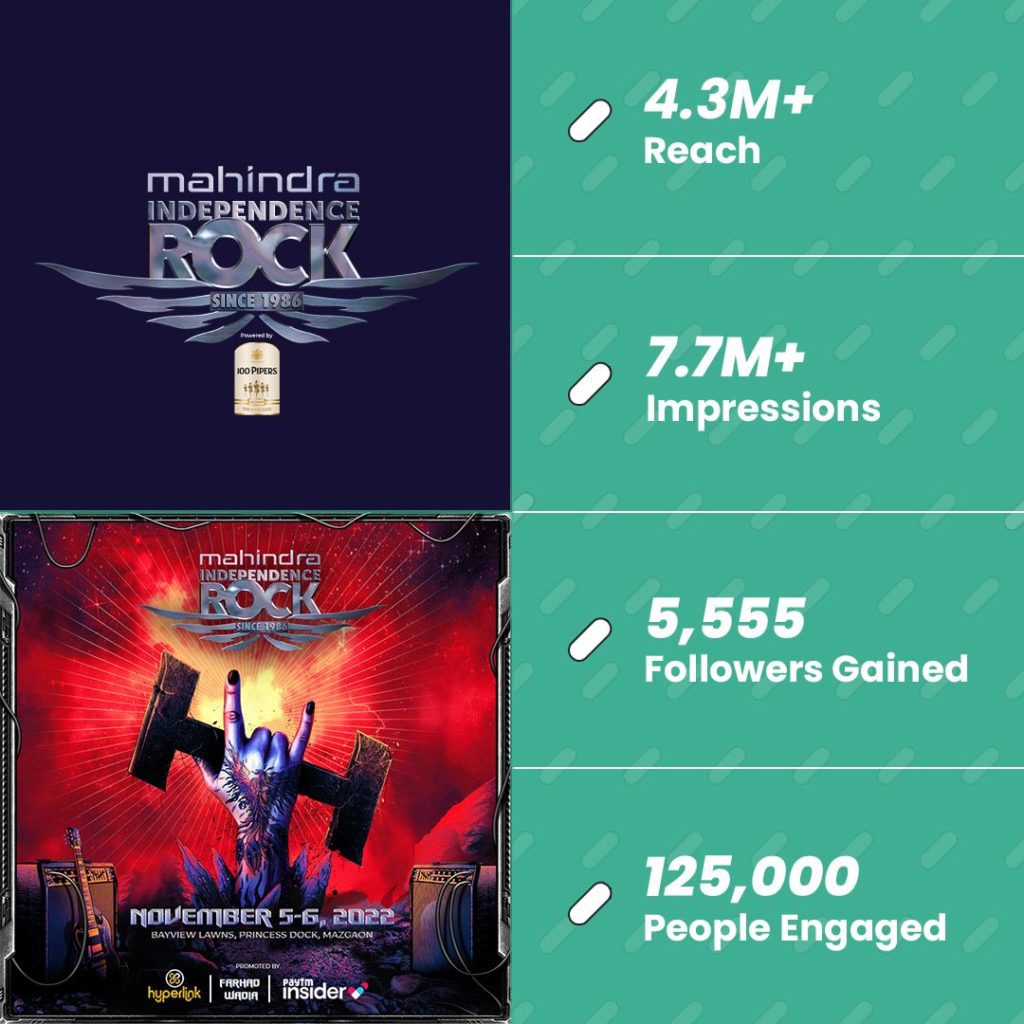 A four-month project aimed at resurrecting the 28th Edition of Independence Rock, India's marquee Rock Music festival.
After a decade-long break, Independence Rock, also known as I-Rock, made a triumphant return. Our task was to reignite people's passion for rock music by blending nostalgic yet engaging content from previous editions, creating a once-in-a-lifetime experience. 
Performance Marketing
Case Studies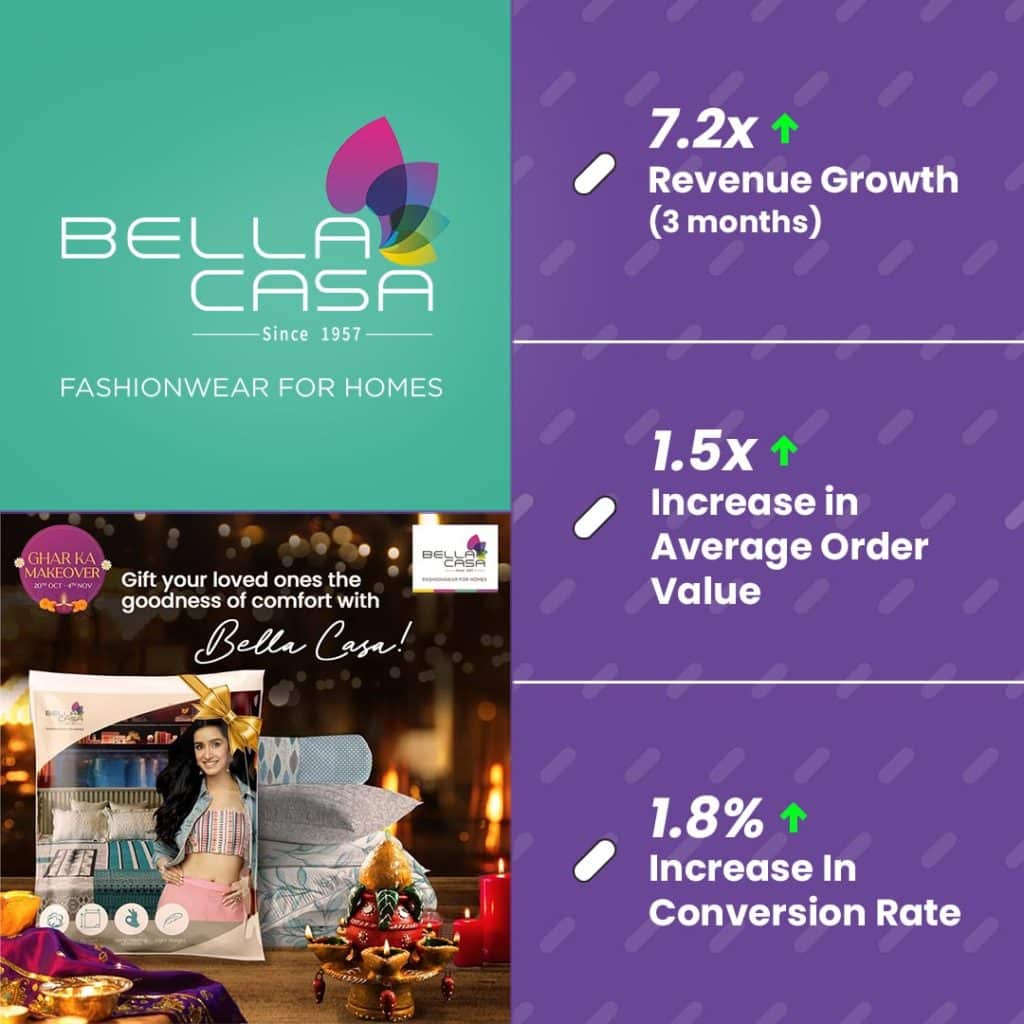 Generating Sales of Home Furnishing Products on the brand's E-commerce Store

Bella Casa – a home furnishing brand specializing in bed linens – approached us to create a performance marketing campaign focused on generating revenue from their online store. 
Using data analysis and client collaboration, we identified the potential target audience and devised a focused strategy using Google shopping and social media platforms. 
The results spoke for themselves, with a 7.2x growth in revenue in just 3 months, a 1.5x increase in AOV (Average Order Value), and a 1.8% increase in conversion rate.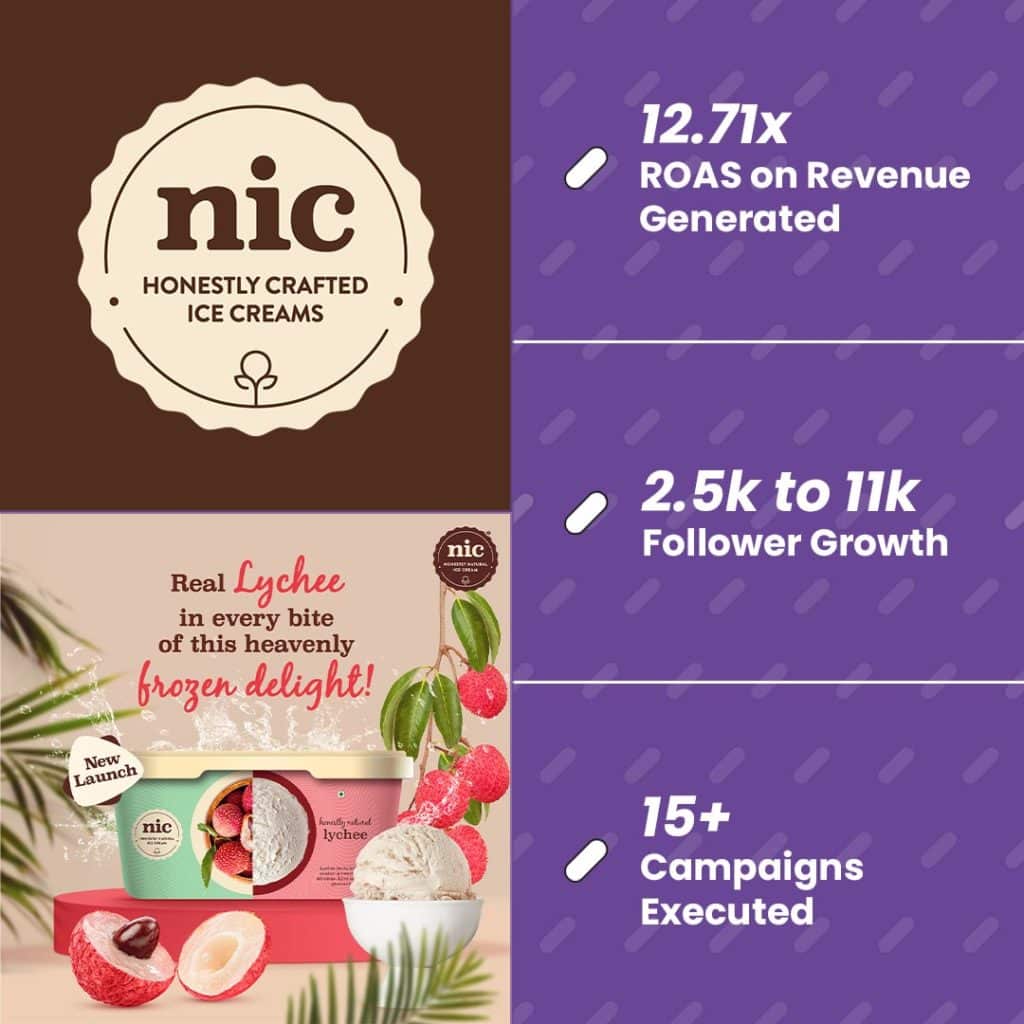 Driving E-commerce sales of Ice Creams on NIC Ice Creams website

With a strong physical presence in over 86 cities, NIC Ice Creams was open to exploring the potential of the digital medium.
We developed a tailored strategy to promote the brand's self-delivery portal through Facebook and Instagram. Visually appealing and engaging Ad Campaigns were created that resonated with the audience, resulting in a 12.71x ROAS and revenue of more than Rs 10 Lacs with just a spend of around Rs 80,000. 
Our performance marketing campaign not only helped NIC Ice Creams achieve their business objectives but also enabled them to scale their online presence and drive more sales.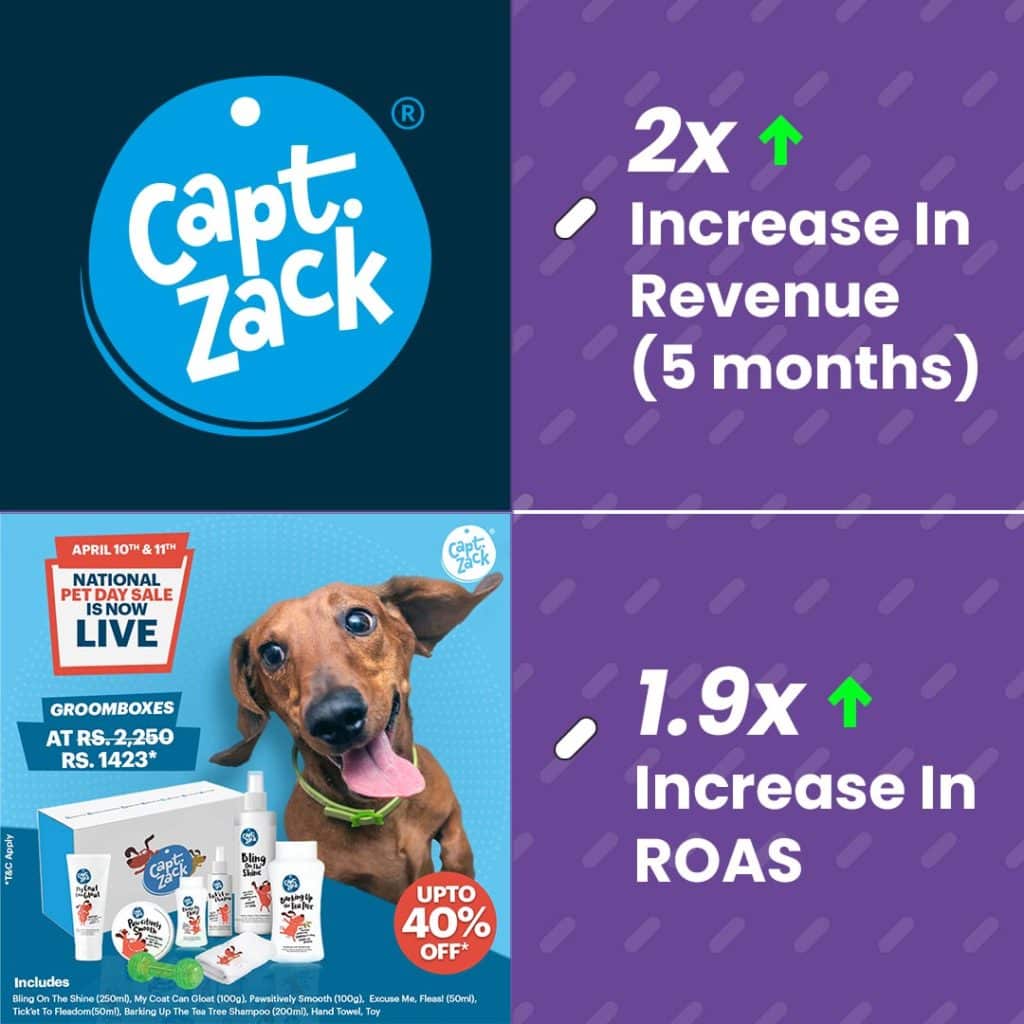 Boosting E-commerce sales for pet grooming products on the brand's website

For Captain Zack, our agency was tasked with the two-fold objective of developing a performance marketing campaign that establishes the brand as an industry leader and to generate sales for their combos on their eCommerce store. 
As part of our strategy, we collaborated with the brand's founder to develop a persona of their target audience and analysed their Amazon sales data to create pinpoint targeting. 
Our efforts led to a 2x increase in revenue within just 5 months, and we successfully established their newly launched product line of Pet Perfumes and Pet Treats.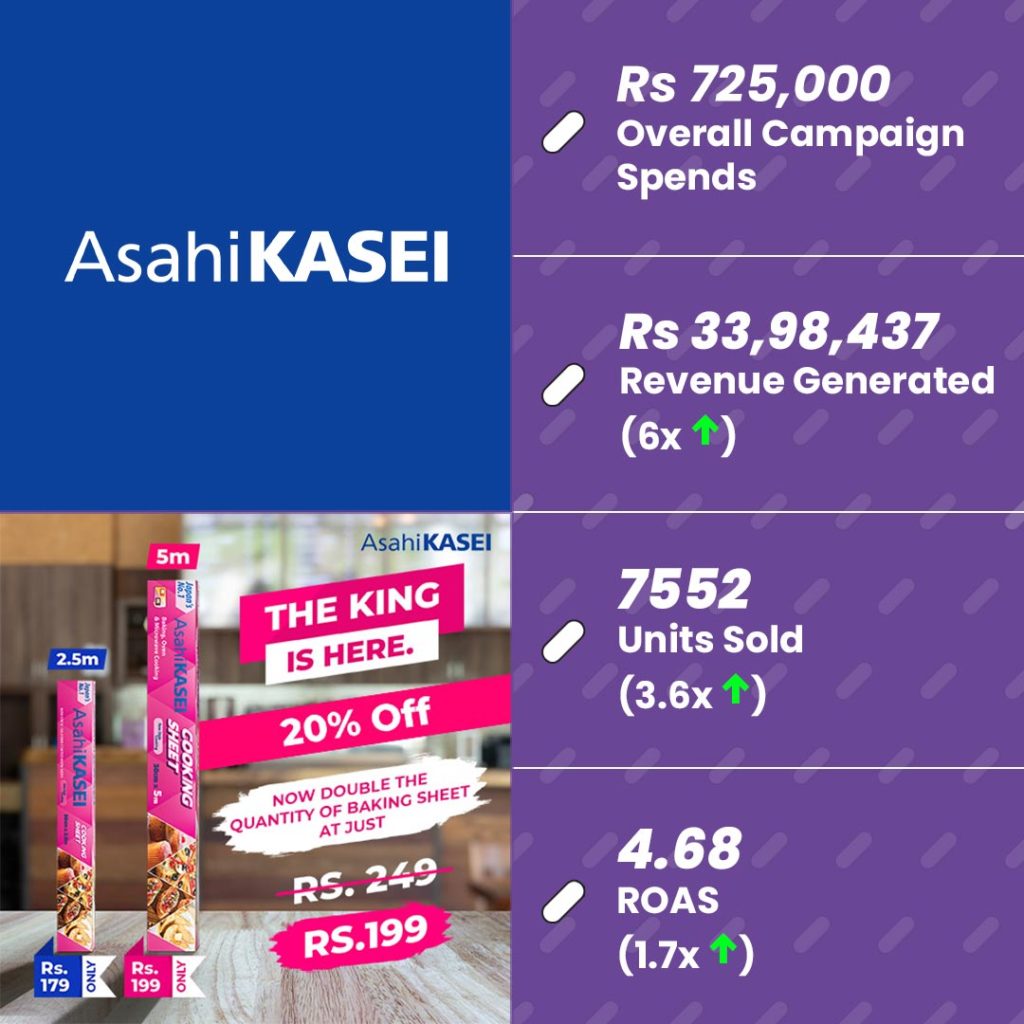 Generating sales for the brand's products on the BigBasket platform.

Asahi Kasei specialises in Premium Kitchen Consumables that was selling their products on BigBasket and Amazon. Our objective was to boost their sales on BigBasket.
We leveraged Facebook and Google Advertising to dynamically target potential customers based on stock availability to achieve our goal.
The overall digital advertising spend for this campaign was Rs. 725,000, and the results were impressive. The campaign generated revenue of Rs. 33,98,437, which represents a 6x increase in sales. The number of units sold increased by 3.6x to 7,552, and the Return On Ad Spend (ROAS) increased by 1.7x to 4.68.
Search Engine Optimization
Case Studies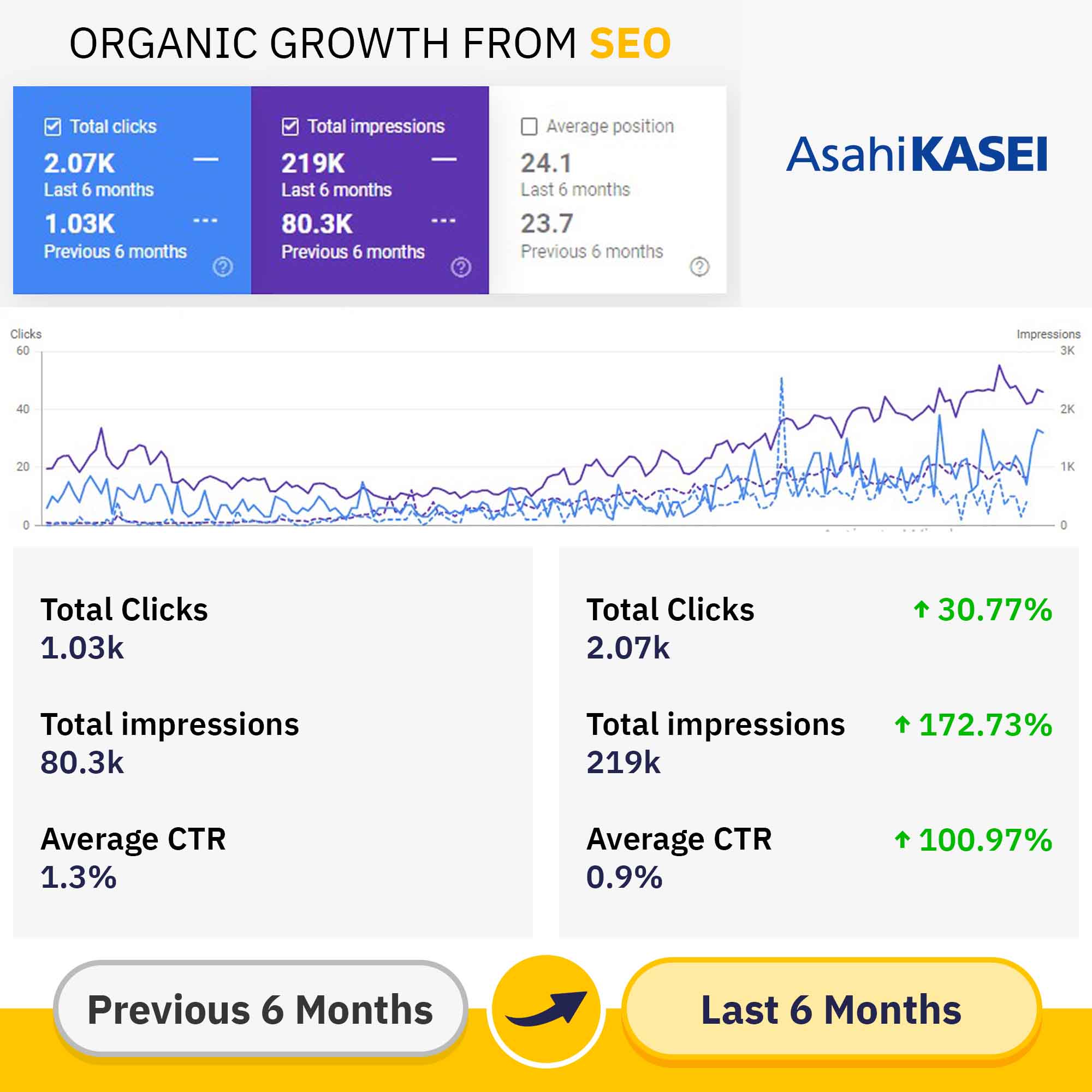 Boosting the organic traffic to Asahi Kasei's brand website.
Our SEO objective for Asahi Kasei was to enhance the website's ranking for the categories that its four products belong to. For instance, Cooking Sheet, is also referred to as Butter Paper, Parchment Paper, Baking Sheet, etc. Our aim was to attract traffic from searches using these alternate keywords and redirect them to Asahi Kasei's website.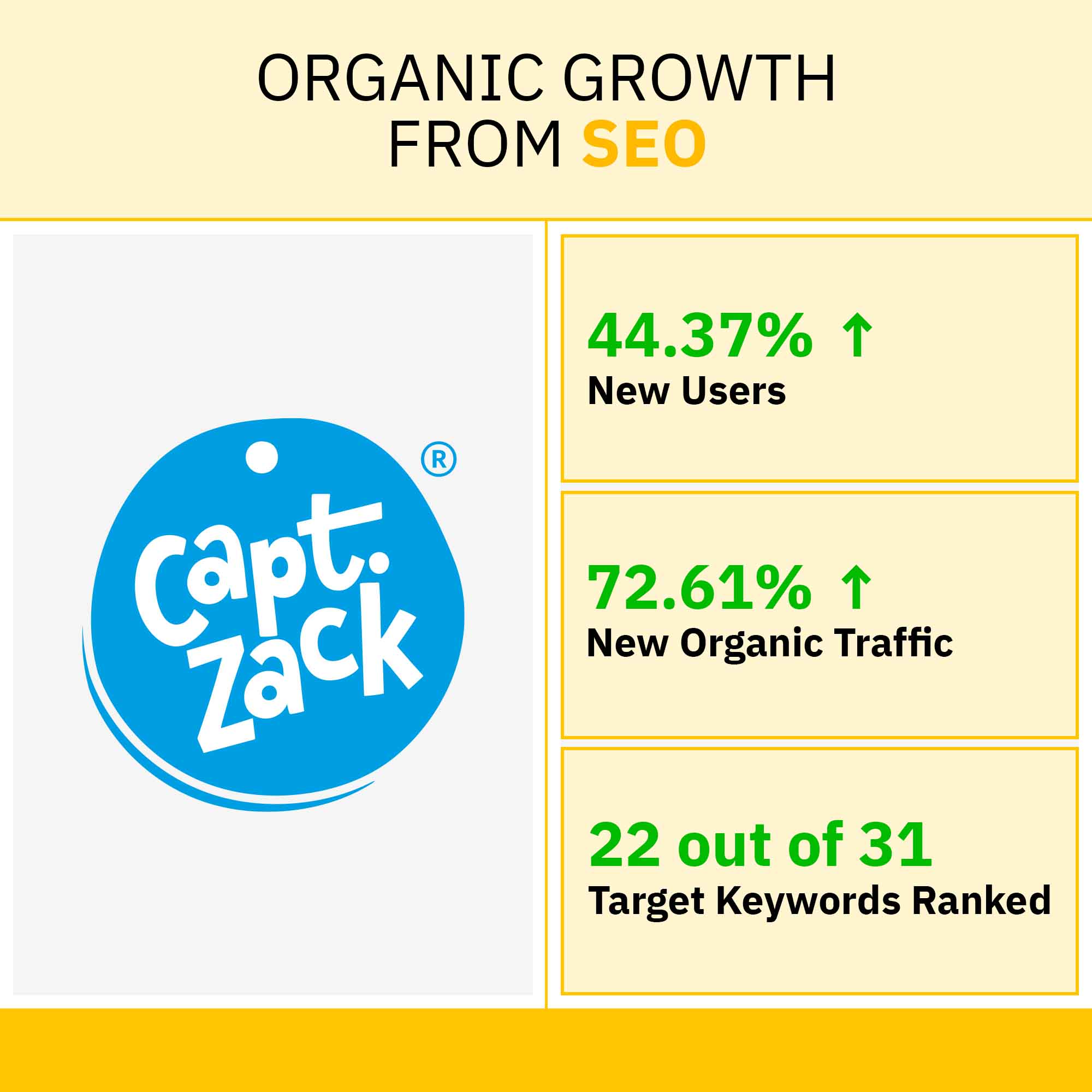 Driving organic traffic to Captain Zack's e-commerce website

We were tasked with helping our client build their brand and expand their reach through organic channels. With a multi-pronged approach, we aimed to increase their domain authority and improve their search engine rankings.
As a result, the brand saw impressive results within just two months of optimization. They began ranking for all relevant, high-competition keywords and even outperformed their competitors, who had been doing SEO for a longer period of time.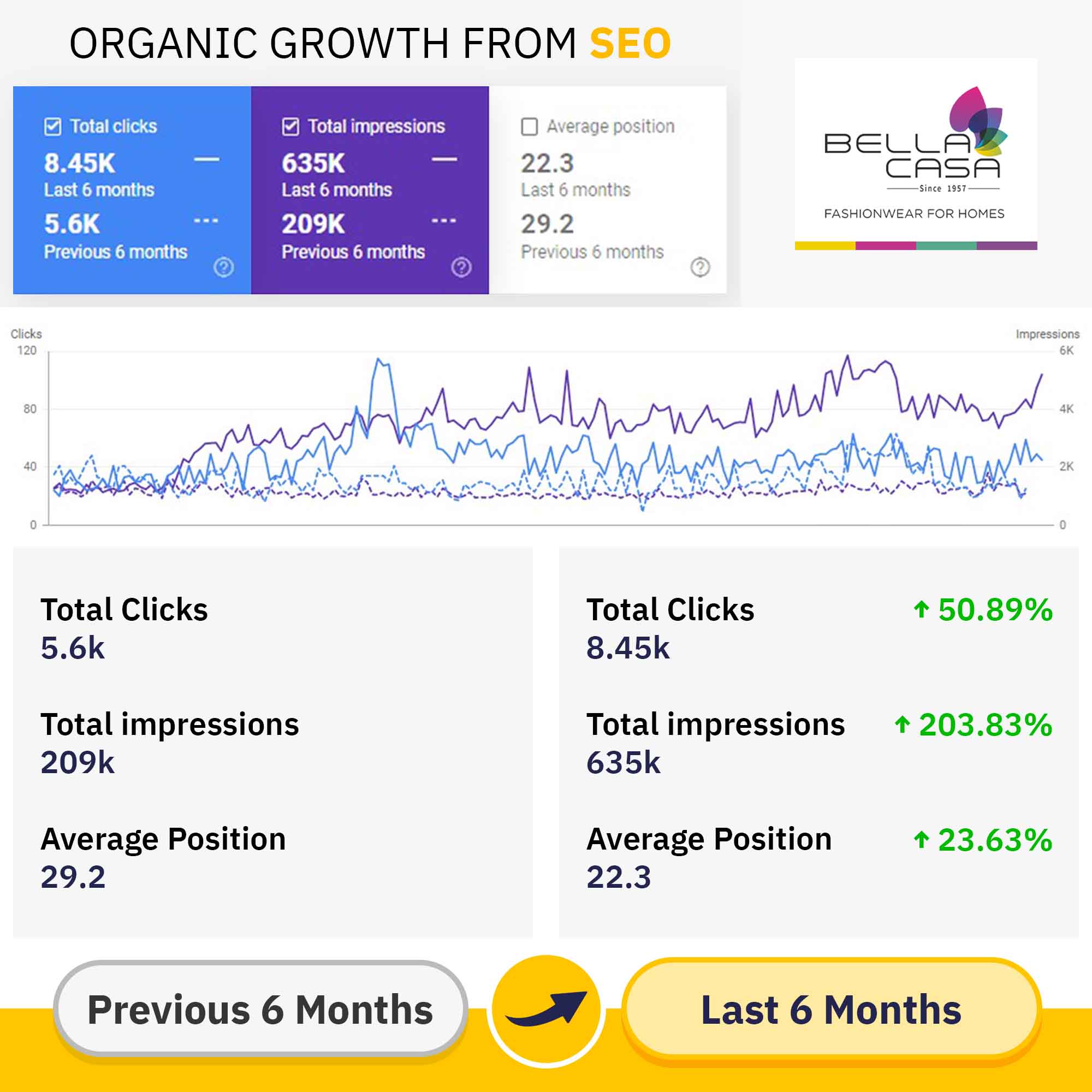 Boosting the organic traffic from Google to Bella Casa's e-commerce website

Given the highly competitive nature of the Home Furnishing market, our primary objective for Bella Casa was to achieve strong keyword rankings across multiple search terms, with the aim of driving increased organic traffic to their e-commerce site and ultimately boosting sales.
Website Development
Case Studies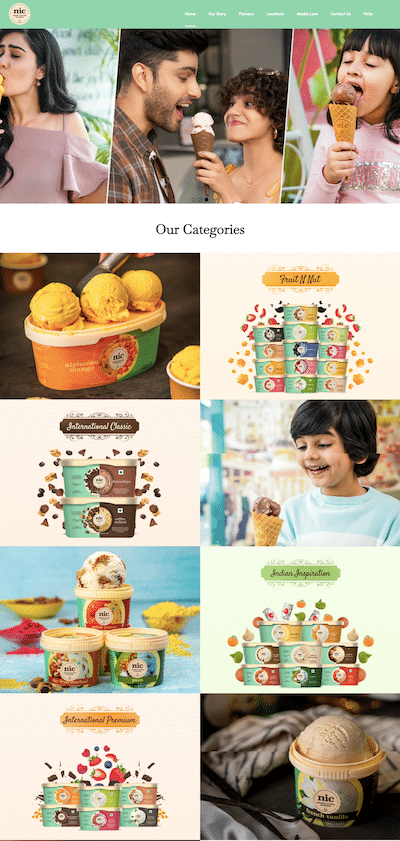 NIC Ice Creams Brand Website
By understanding the fun and quirky personality of NIC Honestly Crafted Ice Creams, we built a visually stunning website that effectively showcased their delicious range of ice creams with a colorful and creative flair. Our approach involved a mix of creative design elements and captivating photography that captured the brand's essence. We ensured all communication points were covered in a simple and structured manner, providing a seamless user experience for visitors.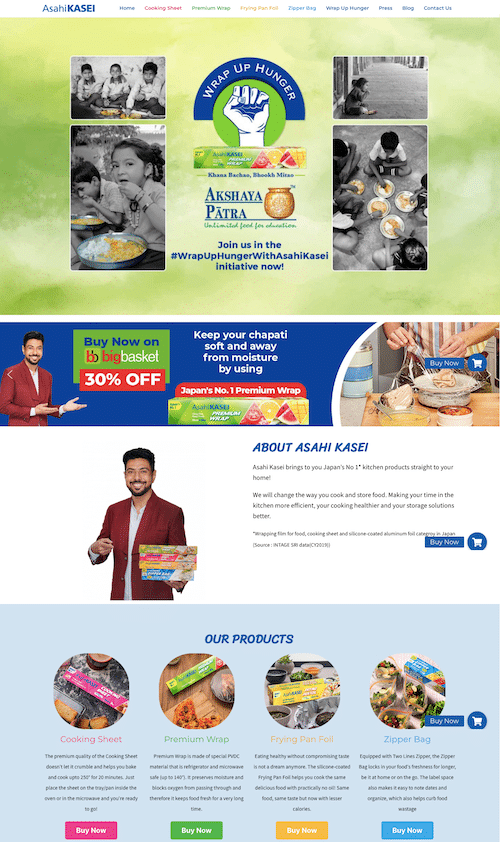 Asahi Kasei India Brand Website
Asahi Kasei India approached us with a unique challenge: to optimize communication for their 4 products and create dedicated landing pages for advertising and SEO purposes. Through a streamlined content structure, we effectively conveyed each product's benefits and usage clearly and concisely. We also incorporated recipes and testimonials, adding value and ensuring maximum engagement for those who visited each product page through social proof.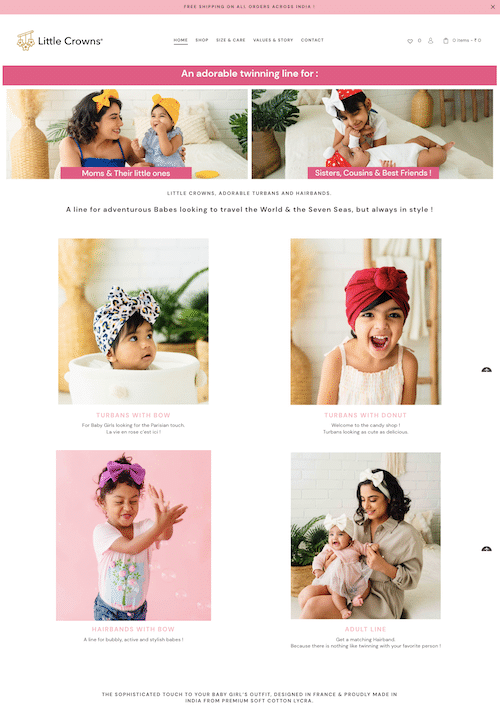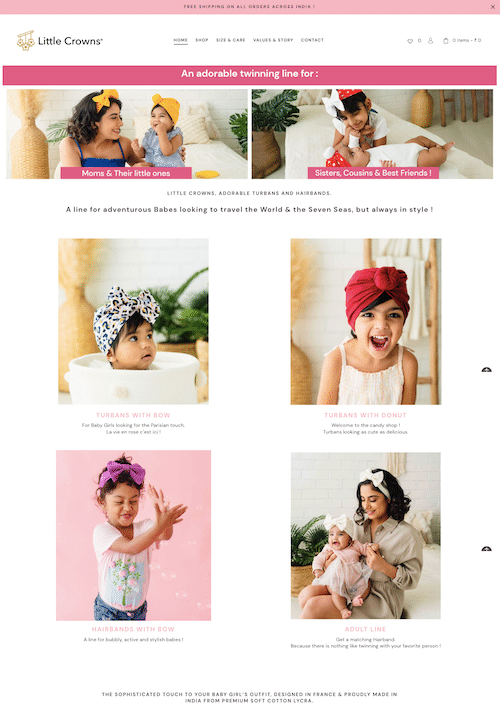 Little Crowns E-Commerce Website
We aimed to create a clean and minimal e-commerce website that would appeal to Indian mothers and drive sales. Our approach focused on communicating the value and benefits of the products in a clear and convincing manner, as mothers are particularly discerning about what they purchase for their children. The end result was a highly functional website that effectively conveyed the brand's message and helped generate sales.
Want to get on the Social Pill?

Let's schedule a consultation.